Polish White Sausage or biała kiełbasa is a garlicky fresh (not smoked) sausage that has so many uses. If you've had żurek or white barczsz at Easter, this is the sausage that goes in those soups.
In addition to links, in Poland, it's also processed and kept in jars. White sausage in a jar was one of my favorites, but this time, we're making links.
Making Polish White Sausage
Sausage making takes a couple of special tools. You'll need a meat grinder, or you can ask your butcher to grind the meats for you. This might be anything from an attachment for your stand mixer to a manual meat grinder.
You'll also need something to stuff the casings. There are crank devices that will do this. I'm lucky. My parents have one, and I've just borrowed theirs. How likely is it that we'll both be making sausage at the same time? This too can also be an attachment for a stand mixer.
If you're feeling like experimenting, you might be able to adapt the technique in this video to work with casings rather than a skewer, very MacGyver-like.
This is just the equipment. You'll also need casings, something you might have to plan ahead to procure. I found getting the casings on the tube the most tedious part of the process. I might have muttered, "this is why people buy sausage," under my breath. I've already ordered some pre-tubed casing for our next round of sausage making.
Ed discovered that there was such a thing as pre-tubed casings while searching the internet for an easier way.
Amazon links are part of their affiliate program and generate a commission for this website at no extra cost to you.
How to Serve Polish White Sausage
As I've mentioned, you might serve your white sausage in żurek or white barszcz. Just simmer it in the soup for the last 2o minutes or so. It's often served as a whole link in the soup which is visually interesting. If you're like me and think that you shouldn't need a knife to eat soup. You can slice it and return it to the soup before serving.
Try cooking white sausage in beer. Add the links to a pot and add enough beer to cover the sausage. Toss in an onion (peeled and quartered), a bay leaf, and a couple of allspice berries and black peppercorns if you have them. Bring the beer to a boil, reduce the heat and simmer for 15. minutes. Cover and let sit for 5 more minutes. If you like, blend the cooked onions in milk or broth and use it to make a gravy or bechamel sauce (you could scale down this recipe) to serve over the sausage.
White sausage would be delicious grilled. The natural casings will have a nice snappy texture. You can put on them over indirect heat or cook them as described above in beer, broth or water and brown them quickly over direct heat to finish them.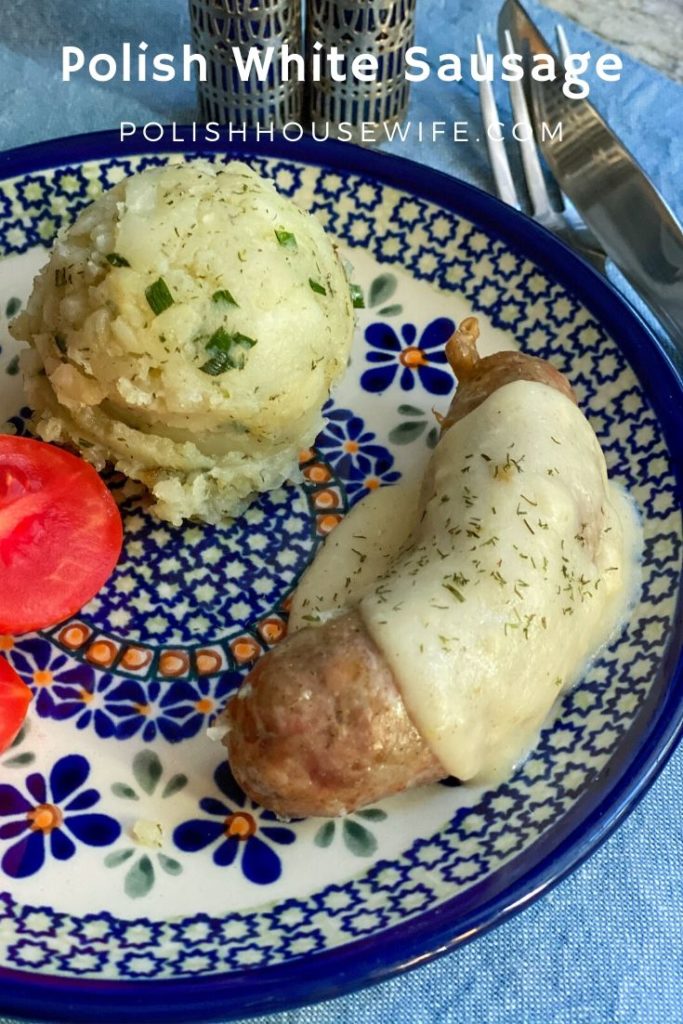 However you decide to prepare them, I think you'll love them.
Smacznego!
Lois
Print
Polish White Sausage
Author:

Prep Time:

3 - 4 hours

Total Time:

3 - 4 hours

Yield:

5

pounds link sausage

1

x

Category:

Meats

Cuisine:

Polish
---
Description
A garlicky fresh Polish sausage that you can cook in beer or grill, or both!
---
Hog casings (approximately 35 mm)

4

pounds pork, I used a picnic shoulder roast

1

pound bacon

5

cloves garlic, peeled

1 tablespoon

sugar

2 teaspoons

salt

1 1/2 teaspoon

spoon marjoram

2 teaspoon

black pepper

3/4 cup

very cold water
---
Instructions
Dice the pork into cubes, about 1-inch, something that will easily fit in the feed tube of your meat grinder. I didn't trim the roast I used. All the fat went in. Place the pork on a baking sheet pan. Spread it out, rather than piling it on top. Cut the bacon into 1-inch pieces and add a bacon layer on top of the cubed pork roast. Put the sheet pan in the freezer for 1 – 2 hours. You don't want the meat to be completely frozen, but you do want it to be quite firm. This makes it easier to grind the fat and connective tissue; it's less likely to get gunked up around the cutting blade. You could ask your butcher to grind the pork roast and bacon and skip this step.
Soak the casings in warm water for 30 minutes to remove the salt. Drain the water and add fresh water to rinse again. Run water through the inside of each casing to be sure all the salt has been removed.
Finely mince the garlic, or use a garlic press. Add it to a small bowl and add the sugar, salt, marjoram, and black pepper. Combine.
Grind the meat using a 1/4 or 5/16-inch grinding plate (or the closest you have). Sprinkle in the garlic seasoning mixture on the ground meat. I put half in when I had ground half of the meat, and put the rest on top when I had finished.
Stir the ground meat until the spices are well distributed and stir in the cold water until the meat comes together in a uniform texture. Almost like a pate. I use the paddle on my stand mixer for this step, but a wooden spoon and a lot of effort will do the same thing.
Refrigerate the meat while you load the casing on the tube of your sausage stuffer. Fill the sausage stuffer with the meat mixture.
Pull a couple of inches of casing off the tube and begin to process just until the mixture begins to enter the tube. Tie a knot at the end of the casing or tie it off with twine. Continue to carefully process, sliding the casing off as the meat mixture is extruded. This is a two-person job. When you're within two inches of the end of the casing, stop the stuffer, slide the casing off, and knot the end. You now have a long tube of sausage. Shape it into links by gently pinching the tube every 6-7 inches and twisting. Each time you twist, go in the opposite direction, so you're not untwisting the link you just made. Continue until the mixture has all been turned into links. There will be a little left in the sausage stuffer, which the cooks can fry up as a reward for their hard work.
Let your sausage sit uncovered in the fridge for a few hours or overnight to dry out the casings. This step is less critical than with smoked sausage, but it does give the casing a nice texture.
For sausage will keep in the fridge for only a day or two, so I recommend you vacuum seal and freeze for up to a year.
---
Keywords: Polish white sausage
An accountant by trade and a food blogger since 2009, Lois Britton fell in love with Polish cuisine during the years she lived in Poznań, Poland. As the creator of PolishHousewife.com,  she loves connecting readers with traditional Polish recipes. Lois has a graduate certificate in Food Writing and Photography from the University of South Florida. She is the author of The Polish Housewife Cookbook, available on Amazon and on her website.