Polish Pickled Herring (Śledzie marynowane – pronunciation) is often one of the meatless meals eaten for Christmas Eve or Wigilia. It's also the sort of dish that our friends were likely to order during a late night out on the town. Like smalec, it goes well with beer or vodka. Our friends liked pickled herring served simply, in oil with onions.
There are so many more options! Pickled herring often makes its way into sour cream where it will be combined with diced onion, apple, and hard-boiled eggs. It's also spread with mustard and wrapped around small pickles where it's known as rollmops.
We were once served the most unusual herring. It came as an amuse bouche, on top of a thin layer of gingerbread cake and plum mousse. I must confess that when I saw it as an appetizer, I wasn't tempted to order it, but the small bite I sampled was delicious, so it pays to keep an open mind.
Health Benefits of Herring
According to Dr. Weil, the only difference between sardines and herring is their size. When they're very small, they're called sardines which means small fish. As they grow, they become known as herring. Smoked herring? Now they're kippers. They're a great source of omega-3 fatty acids, important for brain health. Because they're small and near the bottom of the food chain, herring don't accumulate the contaminants so common in larger fish such as salmon or tuna, and their population is growing, a more than sustainable food source.
The bony little fish, originally a favorite with the Scandinavians and the Dutch, became popular all over Europe during the Middle Ages and is still a popular traditional food in many countries including Poland. Some will say that pickled herring will prevent or cure a hangover. Depending on what it's pickled in, it may offer some benefits.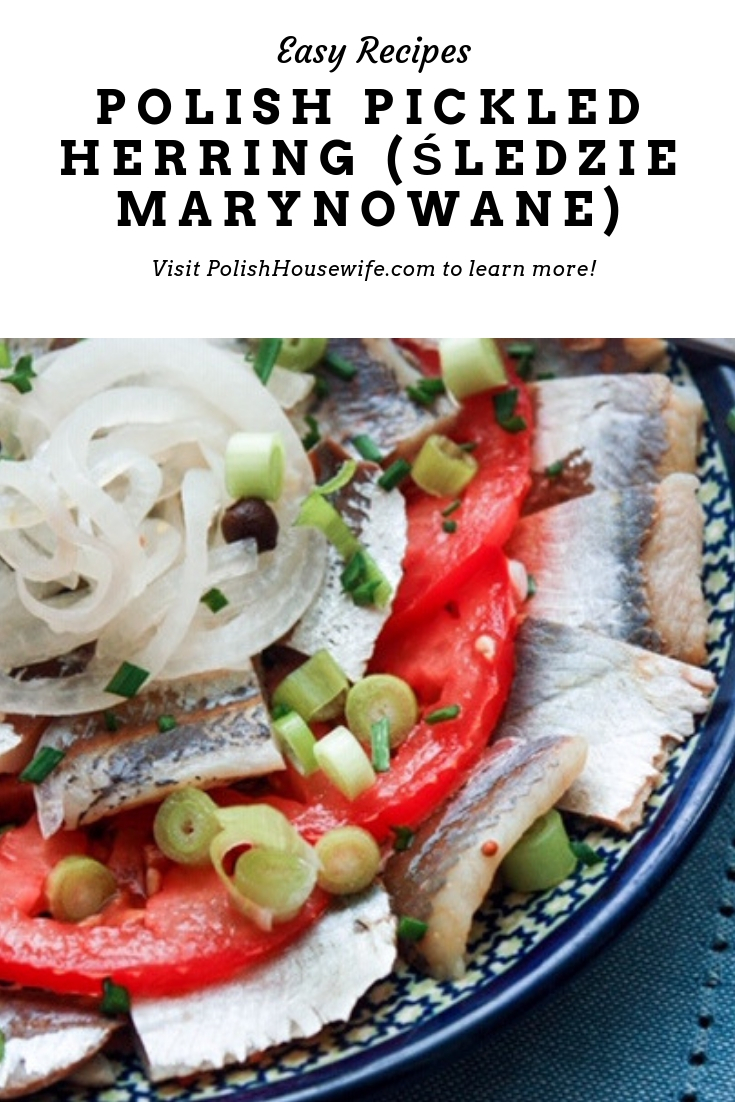 Salt dried herring or fresh
Based on my reading, the most common way to buy herring is fillets dried in salt, something I have not come across, so when I saw a package of frozen fresh herring in an Asian market, I grabbed it. If you buy your herring salted, it will need to be soaked in water, which you might change a few times, to remove the excess salt before you start pickling.
I started to proceed straight to this recipe, inspired by one of my favorite Polish food blogs, Olga Smile, but I realized the recipe called for no salt. That made me think that she must be using salt herring. Fortunately, I found this recipe which uses fresh herring. They warned me that I must brine the herring before pickling, otherwise I'd end up with mush. Brining, here I come! To brine the fresh or frozen fillets, submerge the fish in 5 cups of water with 1/4 cup of kosher salt.
I found a sharp boning knife, pretended that I knew what I was doing, and sliced the fillets off the little fish and then peeled the skin off the fillets; they still have a bit of color from the skin. For a first effort, I'm pleased with the way they turned out, definitely not mush!
Whether you're making Polish Pickled Herring (Śledzie marynowane) for Christmas Eve or for drinks and nibbles, I hope you enjoy!
Smacznego!
Lois
Print
Polish Pickled Herring (Śledzie marynowane)
Author:

Cook Time:

1 day

Total Time:

24 hours

Method:

chemical cooking

Cuisine:

Polish
---
Description
A pickled herring that you can enjoy as is with a crusty bread or use in other recipes
---
Appoximately

12

–

18

herring fillets, prepared for use (remove  salt from salt herring or brine fresh or frozen herring)

2/3 cup

of water

3

–

4

large onions, thinly sliced

1/3 cup

of white vinegar, rice vinegar, or white wine vinegar

1/2 cup

oil

1 tablespoon

of sugar

15

black peppercorns

3

bay leaves

5

whole allspice
---
Instructions
Add prepared fish to a large sterile jar.
Add all other ingredients to a saucepan and heat to a boil, cool
Pour cool marinade over fish, cover, and refrigerate for at least one day. Will keep up to 10 more days in the fridge.
---
Keywords: sledzie marynowanowane polish pickled herring
An accountant by trade and a food blogger since 2009, Lois Britton fell in love with Polish cuisine during the years she lived in Poznań, Poland. As the creator of PolishHousewife.com,  she loves connecting readers with traditional Polish recipes. Lois has a graduate certificate in Food Writing and Photography from the University of South Florida. She is the author of The Polish Housewife Cookbook, available on Amazon and on her website.