I've been following ButterYum's food blog for years.  When she posted a Bailey's Irish Cream and Pistachio Fudge recipe, I had to take a look.  The white fudge with green bits of pistachio looked so good (and sounds so easy) that I know I will make it one day.  So many wonderful recipes out there but too few calories in a day!
ButterYum's post is also where I first learned about the once a month Crazy Cooking Challenge.  After participating in a weekly baking group (which I loved, please don't misunderstand), a monthly activity sounded like just the thing. (So now I'm in two monthly group, stay tuned to see if it grows to four!)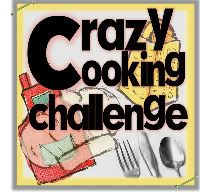 Every month the Crazy Cooks will prepare the same item, whether it's fudge or a chocolate cake, from a recipe found on a food blog other than their own.  We're all selecting different recipes, so the entries are the same, but different if you see what I mean. What a great way to visually sample the best of what's out there!
My challenge this month was to find a yummy chocolate cake, other than my own go-to chocolate cake, which I have bake for two recent birthdays.  (You can catch the second one at the end of this post.)
I found what I knew would be a delicious  chocolate cake with striking appearance on lululu at home.  Thanks so much for sharing this, Fanny!  Fanny's blog captures some wonderful recipes along with posts about her life as a mom.  I hope you'll pay her a visit.
the original recipe calls for a 5 layer8 inch cake – I have 9 inch cake pans, so I only got 3 layers
I also had the perfect reason to make a cake; our friend Remi had invited us to stop by the Cocktails of Dreams club to have a birthday drink with him.  The cake was a big hit with Remi and his friends.
Ingredients
for the cake:
3 cups cake flour
2 teaspoons baking powder
1 teaspoon baking soda
1/2 teaspoon salt
1/2 cup boiling water
3/4 cup Dutch-processed cocoa powder
3 sticks unsalted butter, softened
2 cups packed light brown sugar
4 large eggs, room temperature
1 cup buttermilk, room temperature
1 tablespoon vanilla extract
for the frosting:
5 large egg whites
1 cup granulated sugar
4 sticks unsalted butter, softened 1 1/2 teaspoons vanilla extract pinch of salt
1/4 cup strong espresso, cooled
1 cup sliced almond  
Directions
for cake:
Preheat oven to 350
Grease five 8-inch round or three 9-inch round cake pans, lining the bottoms with parchment paper
Whisk together the flour, baking powder, baking soda and salt
In a small bowl, whisk the boiling water and cocoa powder until smooth
Beat butter and sugar together on medium speed in a bowl of a standing mixer until light and fluffy Beat in eggs, one at a time
Beat in buttermilk and vanilla extract
Reduce the speed to low and beat in 1/3 of the flour mixture, followed by half of the chocolate mixture
Repeat with another 1/3 of the flour mixture and the remaining chocolate mixture
Beat in the remaining flour mixture until just incorporated
Pour the batter into the prepared pans, smoothing the surface with a spatula
Bake 13 to 15 minutes (for 8 inch), 20 to 25 minutes (for 9 inch), or until a toothpick inserted into the cake comes out clean
Cool the cakes (in the pans) on a wire rack
Then invert the cakes onto a greased rack, making certain they are completely cool before frosting
for the frosting:
Put egg whites and sugar in a mixing bowl over a pot of  simmering water
Use an electric hand mixer to beat constantly until the sugar has completely dissolved and the egg whites are hot
Remove from heat
With whisk attachment, continue whipping the mixture in a stand  mixer (I only have portable) until thick, glossy, and cool
Switch over to paddle attachment and mix on medium speed, continuously adding softened butter in chunks until incorporated, and it has a silky smooth texture
If curdles, keep mixing and it will come back together
Add vanilla and salt, mix well
Add the espresso and  beat  for  another  10  seconds
Reserve 1 cup of buttercream for piping on top
To assemble the cake, place one cake layer on your serving plate and spread the buttercream
Repeat this process until all cake layers are placed
Spread buttercream on top and sides of the cake
Garnish with the sliced almonds
Using a large star tip to pipe a decorative border on the top edge of the cake
Cover and refrigerate the cake
Leave out in room temperature for at least an hour prior to serving.
An accountant by trade and a food blogger since 2009, Lois Britton fell in love with Polish cuisine during the years she lived in Poznań, Poland. As the creator of PolishHousewife.com,  she loves connecting readers with traditional Polish recipes. Lois has a graduate certificate in Food Writing and Photography from the University of South Florida. She is the author of The Polish Housewife Cookbook, available on Amazon and on her website.