I'm #5 below
Check out all of the muffin entries and cast your vote by clicking on the photos
My third Crazy Cooking Challenge
As I was scouring the internet for blueberry muffin recipes, I found these muffins on Slow Family Online. I remember my mother making something similar, so I knew Suz had a winner in this post. The addition of cornmeal adds such an interesting texture and substance that I find it difficult to stop eating them. So after a reasonable sampling, I packed up the remaining muffins with some honey butter and took this blueberry goodie bag with me for an appointment at our veterinarian's office. This busy young women in the office were very surprised and very pleased.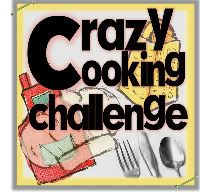 Ingredients
1 cup flour
1 cup cornmeal
1/3 cup sugar
2 1/2 tablespoons baking powder
1/4 teaspoon salt
1 cup buttermilk
1 egg, beaten
1/3 cup canola oil
1 2/3 cups blueberries
Directions
Preheat oven to 400 F (200 C)
Place muffin liners in pan or grease the pan
Whisk together flour, cornmeal, sugar, baking powder, and salt to combine
In another bowl, combine the buttermilk, egg, and oil
Add the liquid ingredients to the dry and mix until just combined. (Over mixing hurts the texture)
Add the blueberries (I was using frozen, so I rinsed them to get rid of the juice and avoid having blue muffins), stirring until just combined
Fill the muffin pans (3/4 full)
Bake for 15 to 20 minutes or until a toothpick inserted in the center comes out clean
Makes 21 muffins
An accountant by trade and a food blogger since 2009, Lois Britton fell in love with Polish cuisine during the years she lived in Poznań, Poland. As the creator of PolishHousewife.com,  she loves connecting readers with traditional Polish recipes. Lois has a graduate certificate in Food Writing and Photography from the University of South Florida. She is the author of The Polish Housewife Cookbook, available on Amazon and on her website.