Recipes know no borders, Kołaczki (Polish filled cookies) are popular in Poland as well as the Czech Republic, Russia, Austria, Denmark, and probably more places.
As you might expect there are multiple spellings for this pastry, but Kołaczki is the Polish name.
Normally, I'd expect to see these on a Christmas cookie tray, but I made them recently, as things are starting to warm up in Tucson because I needed a breakfast pastry to share with new friends.
Earlier this year, Ed and I heard about a small group of people who gather at one of the bars in downtown Tucson early on Sunday mornings to watch Premier League football (soccer) from the UK.
The time difference does make for early matches in our time zone. Let's just say that at 8:00 AM on a Sunday morning, there is no traffic; we have no trouble finding a parking place.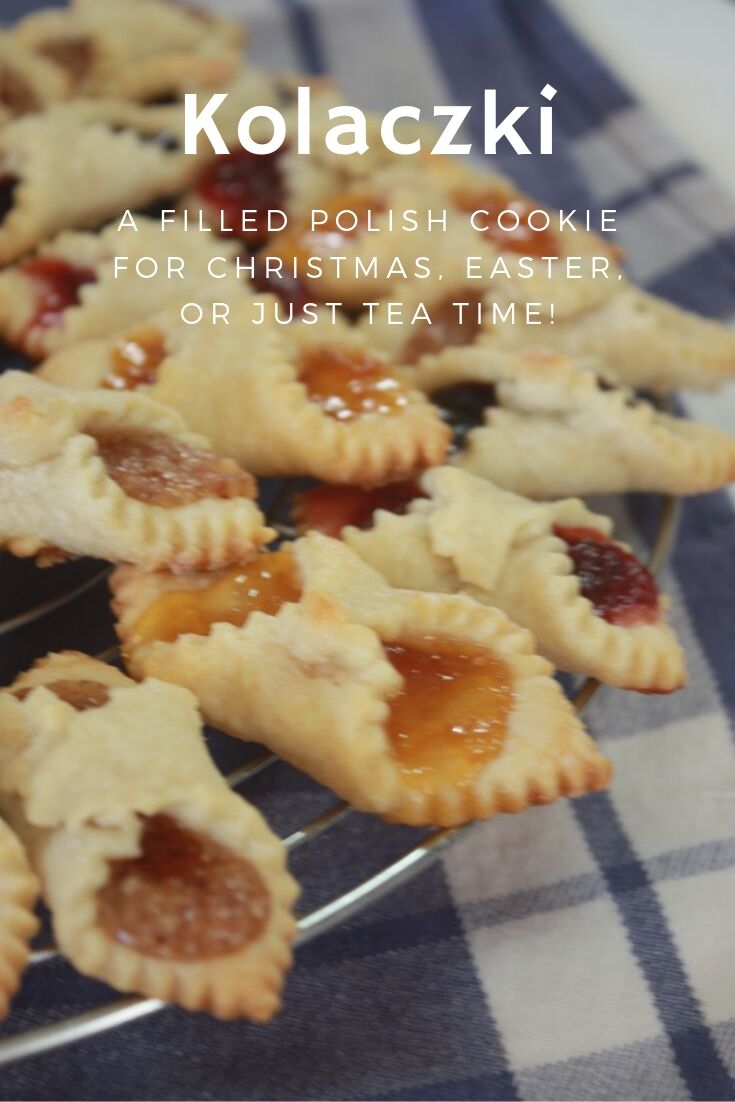 We found the most wonderful community. Small but tightly knit and very inviting. European football doesn't have a huge following stateside, but these die-hard fans support our local, semi-pro team, and on Sunday mornings, they get together to watch the big guys.
People will ask who we're rooting for, but we don't really have a favorite in the Premier League. It's just fun to watch a good match, the more scoring the better.
As I said, the customers and the bartender are very hospitable, every Sunday, someone stops to pick up donuts or cookies on their way. The box gets passed around the bar, and if you're still hungry, about 9:00, they'll serve breakfast to go with your coffee. After a few weeks, Ed suggested that I bring something the following week.
Kołaczki Fillings
My partners at Polana.com offer a large selection of Polish preserves and jams that you can find here. Be sure to use the discount code POLISH15. I love the variety of color options with fruit preserves and jams. The jewel tones add such appeal to a tray of cookies.
You can make your own fillings. Solo fillings work well, but they've become increasingly hard to find.
In the video below, I prepare a nut filling that took very little time and tasted great.
Tips for Preparing
The hard part was getting them to stay folded over while baking. I'm a pretty experienced baker and I was surprised by how stubbornly many of the Kołaczki opened up like a blooming flower while baking. It was a pity, but we had to eat those. I couldn't take imperfect baked goods!
Thanks to the many readers who shared tips to help with the cookies blooming as they baked. I find that if I make sure the dough is no thicker than 1/4 inch, I dot one of the corners with water and press it into the opposite corner, and then fold the points over, I have much better luck.
To help you with the step-by-step process, I've added a Kołaczki video to my YouTube channel. Please follow my channel if you don't already.
I'm sure I'll be making these again.
Smacznego!
Lois
The Amazon links below are affiliate links, meaning Amazon sends me a few cents if you make a purchase
Print
Kolaczki (Polish filled cookies)
Author:

Prep Time:

1 hour 5 min

Cook Time:

45 min

Total Time:

1 hour 50 minutes

Yield:

5

dozen

1

x

Category:

Dessert

Method:

Baking

Cuisine:

Polish
---
Description
A rich pastry with fruit fillings
---
For the pastry:
8 ounces

cream cheese

1 1/2 cups

butter

3 cups

flour

1/2 teaspoon

salt

1

–

11/2

cups filling, such as fruit preserves or jam, nut or poppy seed filling
---
Instructions
Cream the cream cheese and butter until light and fluffy
Stir in flour and salt
Wrap in plastic wrap and chill for an hour
Preheat oven to 350
Roll out the dough by first dusting the surface (mat or countertop) with granular sugar
Roll to 1/8 inch and cut into 2-inch squares. I used a fluted pastry cutter to get the zig-zap along the edge of the cookies.
Place a teaspoon of filling in the center of each square
Fold over opposite corners and seal well
Bake for 15 minutes or until corners just begin to brown
Cool on a rack and dust with powdered sugar
---
Notes
To make your own fruit filling, combine 3/4 cup dried apricots (or other dried fruit), 1 1/2 cups water, 2 tablespoons sugar, and 1 teaspoon lemon juice in a sauce pan. Simmer until the fruit is tender, approximately  15 minutes, cools and mash or purée with an immersion blender or food processor.
Keywords: Polish kolaczki
An accountant by trade and a food blogger since 2009, Lois Britton fell in love with Polish cuisine during the years she lived in Poznań, Poland. As the creator of PolishHousewife.com,  she loves connecting readers with traditional Polish recipes. Lois has a graduate certificate in Food Writing and Photography from the University of South Florida. She is the author of The Polish Housewife Cookbook, available on Amazon and on her website.